Easy Ways to Keep Your House Clean and Dirt-Free During Renovations
If you don't take some precautions, even a simple renovation job like painting can become a major disaster.
Renovations are necessary vital if you want to keep or increase the value of your home. Although you may want to do some additional cleaning after the construction crew has left, these tips will help keep your home clean even if you are undergoing a significant renovation.
Organize the Space
Remove as much as you can from the home improvement area. Renovations can get surprisingly dirty in unexpected ways, even if it's a small project.
To protect light fixtures, pictures, and other wall decorations and delicate pieces of furniture and accessories from becoming dusty and covered with paint and other building materials, remove them.
This will also make the entire process of the planned home improvement easier because working in an empty room is much more comfortable.
Safeguard the Furnishings
Closets, beds and mattresses, library cabinets, and some decorations are frequently included in home improvement projects. They are usually covered in plastic and forgotten about until the renovation is completed. This, however, is not always sufficient to catch all construction dust and keep it away from the furniture.
If you're going to do a lot of drilling or other major remodelings, wrap the furniture in old sheets first, then cover it with plastic. Cotton and linen with a thick weave are the best for trapping even fine dust that manages to get in despite the plastic.
When it's time for the after-cleaning, builders make sure to gently remove the textile covers. All of the dust and grime will remain on the fabric if you carefully unwrap and lift them.
With Dirt Trace, you can keep the dirt at bay
It will be challenging to keep your home clean if the renovation project takes place in an inner area of the house, away from an entrance. The path leading to the improvement area can be covered with carpet scraps, planks, or thick plastic.
This way, you or your contractors can keep the track free of mud, debris, and spills. That is the most effective way to keep dirt from spreading throughout your home.
You can pick up the pieces, shake or vacuum them thoroughly, and put them away once the construction work for the day is completed. When it's time to continue the renovation, you can put them in place.
During the renovation, establish a daily cleaning routine
The most significant thing you can do to reduce the mess left behind by builders is to create a daily cleaning routine tailored to your specific needs.
You should talk to the contractors ahead of time about who will clean what during the renovation.
Typically, they are responsible for daily cleanups and debris disposal in the renovated area. Taking some of the chores into your own hands is still a good idea.
To minimize the spread of dirt and maintain the cleanliness and air quality in your home, you may need to vacuum and dust other house areas.
After the builders have completed their work, hire professionals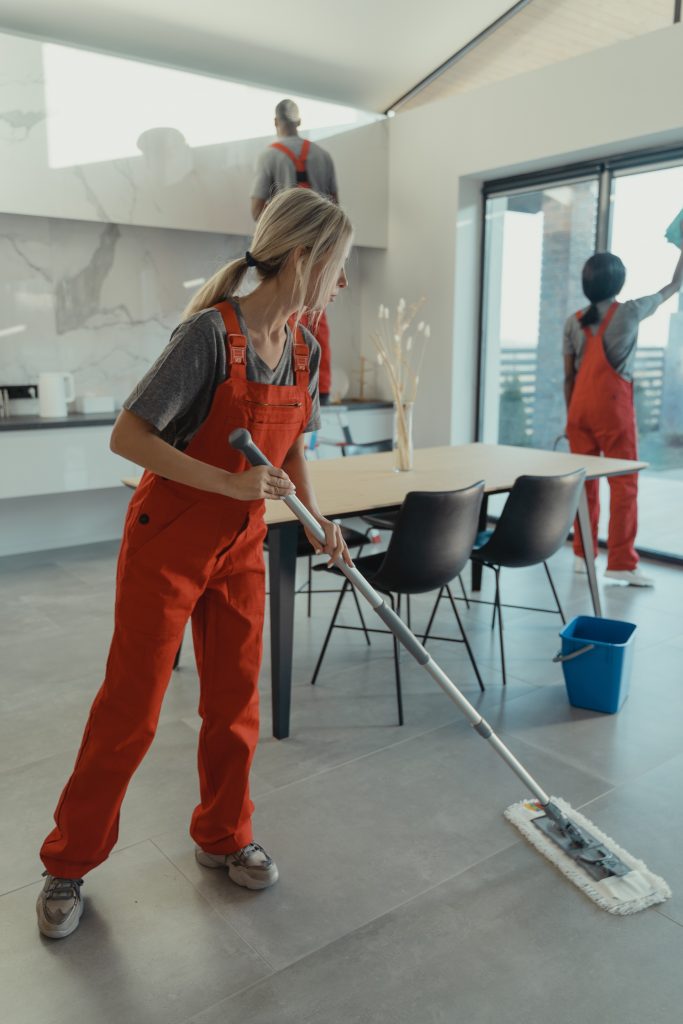 After a significant renovation of your property, hiring professional cleaners is arguably the best thing you can do. It's also the simplest way to enjoy the makeover's results without the hassle and effort. 
Even if you follow the first four rules for keeping your home clean during a renovation, there will almost always be stains, splashes, and debris left behind.
There are specialized services available to remove any evidence of a renovation at your home. If you have a lot of dirt to deal with, they are a quick and cost-effective way to do so.
Please do not hesitate to reach us if you require an after-builders cleaning service in Louisville, KY, or nearby areas. At a reasonable cost, our trained professionals will handle the dirty work for you!