What is the Best Way to Clean an Oven? 9 Steps
Cleaning the oven has to be one of the most despised chores.
It's simple to dismiss – simply close the door – but it has a disastrous knock-on effect.
Months can pass before you realize the full horror of the situation – by which time you're covered in layers of hard-baked grease and grime.
It's tempting to reach for one of those overnight all-in-one oven cleaners, but the warnings about chemical fumes can be off-putting.
There is a more natural way to complete the task. Simply follow our 9-step guide, and in five minutes (plus soaking time), you'll have a sparkling, ready-to-use appliance.
Is It Necessary To Clean My Oven Regularly?
The answer is contingent on how frequently you use it.
The more you utilize it, the more splatters and residue you'll have.
If you use your oven frequently, deep cleaning it once every three months is reasonable.
If you only use it once in a while, every six months or once a year will suffice.
If you notice any significant residue in the oven or accidentally spilled something, wipe it out once the oven has cooled so it doesn't continue to bake (and undoubtedly smoke every time you turn on the oven).
In fact, a light wipe-down of your oven once a month is a good rule of thumb for preventing grime from accumulating.
What Is The Essence Of A Clean Oven?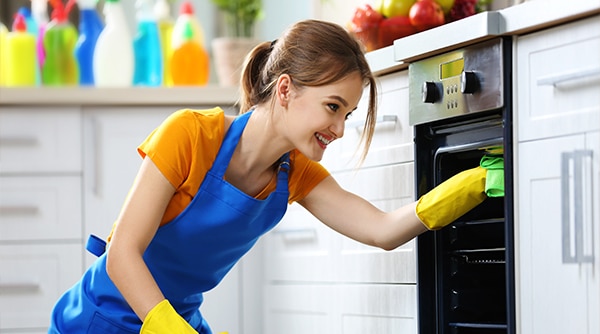 Cleaning your oven regularly improves the quality of your food.
However, it's not a glamorous task and can easily fall into the "out of sight, out of mind" category.
What You Need To Clean Your Oven:
Soda (baking)
Water
Gloves made of rubber
Wet dishcloths
A spatula made of plastic or silicone
Bottle for spraying
Vinegar (white)
Here's How To Clean Your Oven!
Remove the racks and everything else.
Remove anything that can be removed from the oven.
Before you begin the cleaning process, remove all oven racks, pizza stones, foil, temperature gauges, and anything else that can be removed.
Set aside all of these items so you can clean them later.
Mix baking soda and water to make a paste.
Combine 1/2 cup baking soda with a few tablespoons of water to make a paste.
In a small mixing bowl, combine all ingredients until they form a spreadable paste.
If necessary, add more water or baking soda until the desired consistency is achieved.
This paste will be used to coat the entire oven, so make enough to cover the whole surface—just double the recipe if you need more.
Cover the entire interior of the oven with the baking soda paste.
Apply the baking soda paste to the inside of the oven (you may want to wear rubber gloves to protect your hands—it's a dirty job, and the grime will get under your fingernails if you don't).
As you apply the paste, stay away from the heating elements. 
Make sure to cover any extra greasy areas, and don't worry if some areas of the paste are thicker than others.
As soon as the paste comes into contact with the grease, it will turn brown.
Allow at least 12 hours for the paste to soak into the grime.
Allow the baking soda paste to sit overnight or for at least 12 hours after being spread over the oven.
Close the oven door to prevent anyone in the kitchen from tripping over it.
It's perfectly normal for the baking soda to turn brown.
Essentially, it absorbs and degrades all the grime that had previously adhered to your oven.
While the baking soda paste is working, clean the oven racks.
Wash the oven racks in the sink if they'll fit. If you don't have one, clean them in your bathtub.
Fill the sink or tub halfway with warm water and add 14 cups of dish soap while it fills. 
Allow them to soak for 1 to 2 hours before rinsing and cleaning them with a sponge or scouring pad.
If your broiler pan is dirty, now is an excellent time to take it out and clean it thoroughly.
Wipe down the inside of the broiler drawer with a damp dishcloth in the same manner as the oven racks. 
Use the baking soda paste on the drawer if it is mainly filthy.
To remove the dried paste, use a damp dishcloth and a spatula.
After 12 hours, wet a clean dishcloth and wring it out, so it isn't dripping.
Wipe out as much baking soda as possible, then scrape away any tricky bits with a plastic or silicone spatula.
If you use a metal spatula, the finish on your oven will be scrapped.
Using white vinegar and water, spray the inside of the oven.
Add 12 cups of white vinegar to 2 cups of water. Utilize a clean spray bottle for the liquids, and then spritz the entire oven.
When the remaining baking soda comes into contact with the vinegar, it begins to foam.
This step aids in thoroughly cleaning your oven and ensures that all of the baking soda is removed.
Using a damp dishcloth, wipe away any remaining residue and vinegar.
Take a new dishcloth and dampen it, then wring it out to make sure it's not too wet.
Wipe away the remaining baking soda and the white vinegar spray.
You may need to put in a little elbow grease, but you should soon see a gleaming interior emerge.
Spray more vinegar on areas that aren't coming clean if necessary. They might necessitate a little extra attention.
Don't forget to spray and wipe down the broiler drawer after cleaning it.
Replace the oven racks and enjoy your sparkling, clean oven!
Replace any items you removed from your oven that you want to return.
If you use your oven frequently, set aside another month to clean it. Cleaning it every three months should suffice if you use it infrequently.
To make your following cleaning session a little easier, take precautions to clean up spills as they occur.