An excellent way to start your day efficiently and cheerfully is to keep your bathroom neat and orderly. And after a long day at work or school, taking a bath or shower in the bathroom is a great way to relax.
Because the bathroom is one of the busiest rooms in the house, making the most of the space is crucial. Choosing the suitable cabinets, shelving, shower hacks, and utility carts for your bathroom can make or break the design.
These simple bathroom organization ideas will help you keep things organized while adding to the room's overall charm. So, let's go ahead and jump right into it!
Organize the area under the sink
Let's start with organizing the area under the sink, which is always a mess. You have so much space under the sink, but it's challenging to use because there's no separation, no storage, and you'll have to create it. So, first, empty all your cleaning supplies. This is where you keep cleaning supplies, extra toilet paper, and other items.
A tension rod will help organize the space. Pull it across the under-cabinet area. It's adjustable and can be made longer if needed. There is no damage to your space due to its soft gripping edges, and we'll use this rod to organize the cleaning supplies.
You can now load a paper towel roll because this is the easiest way to hang paper towels. It keeps it clean, and it's easy to use. You'll hang the cleaning supplies on the other end. This is a simple fix. The nozzles keep everything lifted and take full advantage of the vertical height.
If you keep your cleaning supplies in a cabinet or under your sink, this tension rod technique may work well for you. Because of this, there's a lot more room underneath. This is where you'll store all your extra cleaning supplies, as well as a small container for your extra toilet paper rolls.
And when everything is neatly arranged, it makes everything appear and feel more organized. It's so convenient for grabbing the exact thing you need. Now that your cabinet is finally organized, opening it would no longer make you feel embarrassed.
Make the most of tension rods
Another way to organize your underneath sink is to use two tension rods to create separation and organization. You can hang them all at the same height to make a shelf.
It's an enjoyable, simple idea that frees up that space underneath, so roll up your towels and place them along with your tiny handmade frame. You can use many tension rods to create various shelves, and it's a straightforward DIY method to organize your space.
Using the two-tiered system
Now that you've lifted your towels, you'll want to take advantage of the extra space underneath by installing a two-tiered system. This is a nice little rack for separating different products you wish to have on display and grab quickly. It fits perfectly beneath the sink, and the bottom tier has enough height to accommodate more oversized items.
You can fill it with all the things you use every day, such as skincare, haircare, and cleansing wipes. That way, everything is on display and ready to grab. So, if you want to take advantage of some vertical height and work in an organizer in a small space, this is a great option.
Using jars to organize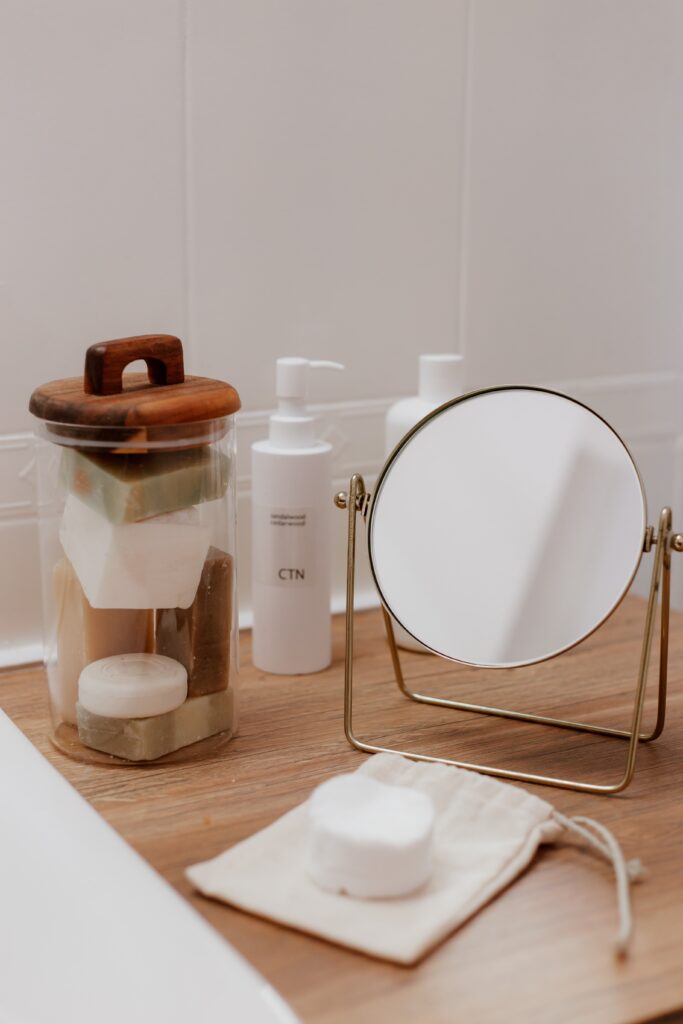 Suppose you have soaps of any size that you place around in your cupboard or drawer and want to keep them together and a little bit tidier. You can use jars to organize many items, like soaps, all your hair rollers, and then grab the whole thing to bring it on top of the counter to use or store, or slip it underneath the sink to store.
Using jars is very common in pantry organizations. Still, you can also use those methods underneath your sink to organize that space.
Shower organization
Now let's talk about shower organization. To keep everything in balance, use the slight tiny edge of the bathtub. There's a handy suction cup corner organizer that you can attach to your tiles without damaging them and then remove with ease. It holds up to six and a half pounds and is extremely easy to use.
As a result, your supplies will have a place to go. You can drain everything out, and it won't get gross in there. You can also bring up all your products, making them look more organized. You'll go one step further and put shampoo, conditioner, and body wash in the amber jars.
These will do nothing more than improve the overall appearance of your shower. You can label them, which is a lot of fun, and since all the bottles are the same, this will make it much easier to find things while you're in the shower. You can also use amber pump bottles to add a touch of class to your bathroom and make your shower experience more enjoyable.
Makeup organization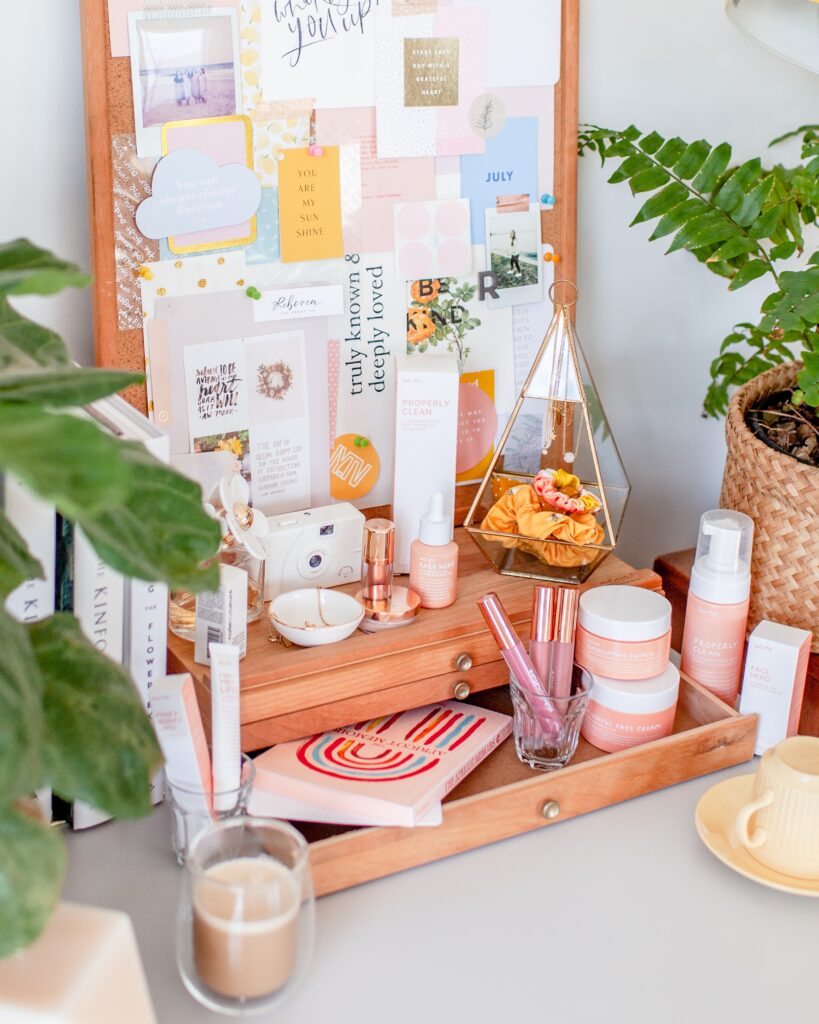 All that's left to consider is having quick and easy access to your products regarding makeup storage. As a result, you don't want to waste time worrying about where your makeup tools are. A small, simple organizer would be ideal for this.
If you'd like to see an example of a good organizer, look no further than the Morgan organizer. It has soft feet and really grips your countertop, so nothing falls out when you open and close the drawers, unlike other organizers. It's the perfect size for keeping your daily makeup organized. Depending on your preference, you can either put this on top of your countertops or underneath them.
Bathroom drawers' organization
Your bathroom makes a massive difference if you have drawers. It makes it much easier to organize, but they are strewn with all your different products if you don't manage the drawers. So, you're going to start from scratch and empty these drawers so you can put in place a new organizational strategy.
Simple drawer organizers designed for small drawers will be used horizontally on these large drawers. That way, you can fit more of them in there and use the small compartments to organize them and keep them looking neat.
You will realize that organization does not have to be complicated; it simply requires sorting. So, suppose you can sort your products by category or color, whatever you decide. In that case, organizing is much more accessible, and the results look much better.
Towel organization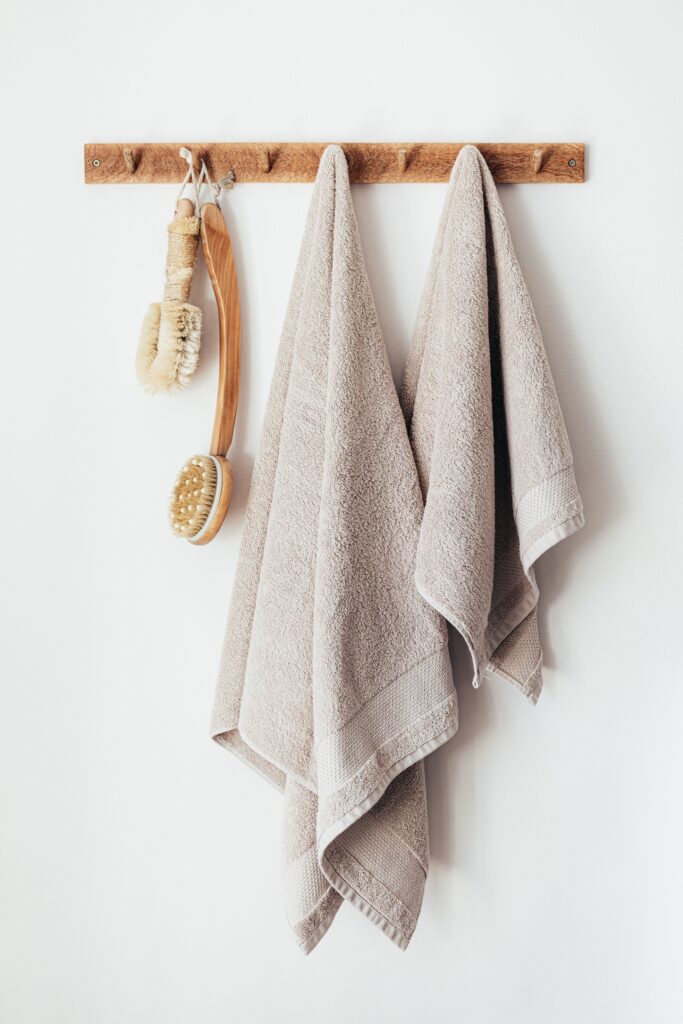 There are towels on the floor, the bathtub, and the door when you get out of the shower because there is nowhere to hang them. So, you'll be utilizing a command hook. It's a straightforward and renter-friendly method of quickly getting your towels off the floor.
Choose a hook that can hold four pounds and does not resemble a peel-and-stick hook and a nice matte black hook that's ideal for putting behind the door to hide your soiled towels. Your space will be organized when you have a place to put everything. A small hook provides a place to put the towels and keeps everything off the floor.
Organizing your bathroom doesn't have to be complicated or time-consuming. The main goal is to make a space more functional, usable, and organized. We hope you enjoyed reading this article and that it inspired you to organize your bathroom with these organizational ideas. Remember that small changes can have significant impacts on daily routines!