How To Tip A House Cleaner | Everything You Need To Know in [2023 GUIDE]
Tipping a house. Even the most informed homeowners are unsure about one part of the arrangement: should you tip your house cleaner? In that case, how frequently and how much?
You see, hiring a maid service is a terrific way to keep your home spotless without having to give up all of your free time. Hiring a cleaner will save you more time and effort than doing the cleaning yourself.
There is no right or wrong answer to these questions. Still, there are various things to consider when determining whether or not to tip your house cleaner and how much to offer.
Actually, tipping your housekeeper is entirely optional. Still, as we have said, there are several considerations you should keep in mind before handing over any cash.
So, to make everything a little clearer, we've put together this handy guide to tipping your cleaner.
Should You Give Your Housecleaner a Tip?
Let's look at the history of tipping to understand it better and when it's appropriate.
Tipping for services has been a common practice since the 18th century. Customers tip for a variety of reasons and a variety of services.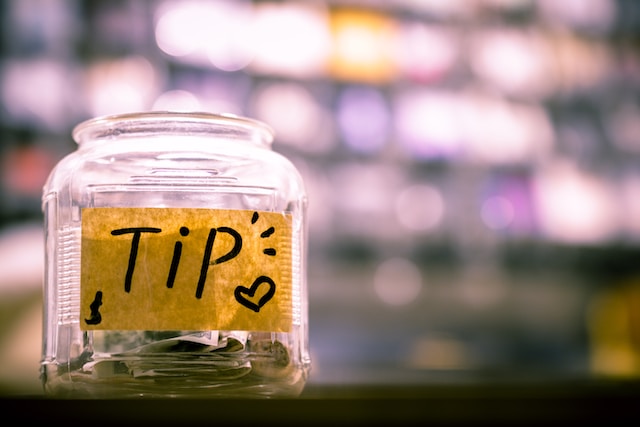 Some tip to demonstrate their wealth or out of a sense of obligation, while others tip to express genuine gratitude and generosity.
While tipping is expected in some service industries, such as restaurants and salons, tipping in other sectors is often a matter of personal preference.
Generally, tipping house cleaners who work for cleaning services isn't expected, but it is acceptable in certain circumstances.
Professional house cleaners, for example, are paid workers of a domestic cleaning business and do not anticipate additional gratuity from customers, but they do enjoy the compassion. Tips are always appreciated by cleaners, just like they are by other service providers.
On the other hand, there are situations in which tipping a housekeeper is preferable to other forms of payment.
The size of the business, its tipping policy, the state of your home, and the quality of their work all play a role in determining whether or not you should tip your housekeeper.
Tipping your house cleaner is always a great idea, especially if they have gone above and beyond the call of duty. Your cleaner will politely decline a tip if this is the case with your cleaning service.
Cleaning Agencies vs. Self-Employed Cleaners
To begin with, you should consider the size of the cleaning company you're considering working with. Individual self-employed cleaners or large cleaning companies with many employees?
In most cases, small business owners have the freedom to set their own prices, so they don't have to share profits with a much larger corporation.
As a result, they don't typically expect to receive any additional tips. While employees of cleaning companies aren't able to set their own wages, they may have to rely on tips to gain a living wage.
Decide whether or not a tip is necessary by taking this into consideration.
The Tipping Guidelines
The tipping policy of the company you're working for should also be taken into consideration. As a result, many cleaning companies have begun to raise their employees' wages, reducing the need for their customers to leave tips for their workers.
In some cases, a company may include a tip in its standard rate. There should be a fair statement in the service agreement about how rates are calculated and whether or not a tip is included.
Cleaning services and maid services vary significantly in their prices and how they treat their employees. To ensure that their cleaners are paid a living wage, some house cleaning services charge additional fees to the customer.
However, some companies have a policy that forbids their cleaners from accepting tips, and your cleaner will politely decline any tip you may offer.
No harm in asking about the company's policy on tips– in fact, they may be able to give you an idea of what other customers have done and how much they've tipped, too.
How Big Is Your Home?
When determining whether or not to tip your cleaner, keep in mind the condition of your house and the size of the company, and its tipping policy.
If your home is 3,000 square feet, you may want to give a house cleaner a larger tip than if your home is only 1,000 square feet.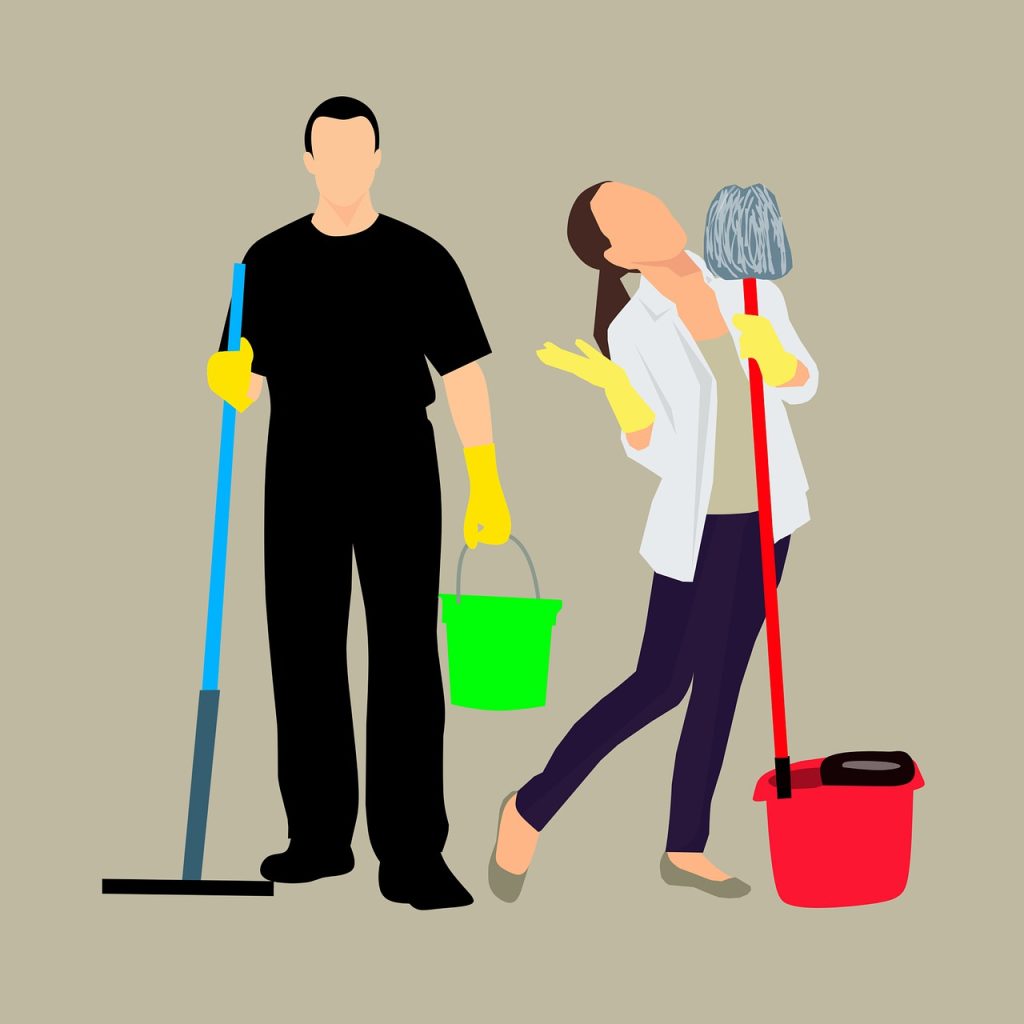 Cleaning services frequently charge more for larger homes since it takes more work to clean them. You can also increase your tipping by increasing the size of your tipping area.
Because of the task's difficulty or the fact that your house hasn't been cleaned for some time, you may decide to tip your cleaner even though you usually wouldn't.
Effort and Productivity of Your House Cleaner
Before deciding how much to tip your housekeeper, consider the quality of the service you received.
Tipping your cleaner should be avoided, especially when you have to call them back for a follow-up clean. It's also possible that if your housekeeper has done an exceptional job, you'll want to reward them.
However, tipping can also demonstrate that you value their cleaning services and them as a cleaner. A cash tip is always appreciated if your cleaner goes above and beyond what you and your maid service require.
Let's say you're hosting a holiday party in your home, and your cleaner is coming in to help with the house cleaning. Your cleaner arrives at your home, scrubs it until it's spotless, and then departs hours before the party services begin.
If you've received exceptional service in this case, reward it! Extra cleaning services are an excellent opportunity to leave a tip for your housekeeper.
What you tip depends on what you're tipping for (is it a special occasion or a holiday?), how much extra you can provide, and whether you're tipping as a reward to cleaners for their exceptional cleaning services.
Finally, when it comes to advice, anything is better than nothing. Decide how much you want to tip for each type of service. If something changes collaborate with the company or one of the employees to adjust the tip.
To What Extent Should You Tip?
Despite the fact that you've decided to tip your housekeeper, you may still be unsure of how often and how much to do so.
When answering this question, you should think about what services you've requested, how often you have the same house cleaner, and how your rates are determined.
Inquired About Services
When determining how often you should tip your cleaner, keep in mind the services you've requested as a starting point.
For one-time services like a deep clean or a move-out clean, you may choose to tip or not to tip at all if you don't intend to use a cleaner again.
One way to figure out how much to tip your cleaning person is to think about the service they are providing.
For upcoming visitors, is your housekeeper coming in early and staying late? Is the maid service required to assist you in preparing for the arrival of these visitors?
To help with a deep cleaning, the company may be sending a group of cleaners to your home for the first time in months. Decide how much to tip your cleaners based on what you expect them to do for you.
Selecting multiple cleaning sessions may give you more leeway in the frequency with which you tip your staff.
Different Cleaners vs. the Same Cleaner
It's important to know whether the same person is assigned to your home each time or if the cleaning company rotates in different people for each visit.
It's possible to have a different cleaner for each cleaning service. For a month's worth of weekly cleaning services, you wouldn't want one cleaner to get the entire tip if there were multiple cleaning professionals. Smaller weekly tips may be better than larger monthly tips in this case.
It's necessary to leave a tip each time a new cleaner comes because you never know when you'll see the same one again.
That being said, it is not expected that you tip the same cleaner every time he or she cleans your home. Instead of tipping a small cost for each service, you may prefer to pay a more considerable sum once a month or every few months.
How To Tip A House Cleaner and How Much to Tip?
So, you've decided whether or not to tip your cleaner and how often, but there's still the question of how much.
There are many circumstances that come into play when it comes to how much money you're paying for cleaning, how much time you're willing to put into it, and the condition of your home when a cleaner arrives.
This will also be determined by your unique circumstances as well as the frequency with which services are provided.
Suppose you hire a professional cleaner for a one-time service, for example. In that case, you have the option of not tipping or tipping once.
When you have a recurring cleaning service, however, things can get a little more complicated.
Your cleaner is unlikely to expect a tip every time he or she comes to clean your home. Rather than tipping a small amount at each cleaning, you could give your cleaner a slightly larger tip once a month or even once every few months.
Even if you're aware that your home hasn't been cleaned in a while (it may need a thorough cleaning!), and if you are dealing with a challenging project, such as a filthy bathroom or kitchen, you may want to consider tipping your house cleaner even if you would not normally do so in other situations.
So, how much should you leave as a tip? In general, tipping etiquette should be the same as it would be for a hairstylist, taxi driver, or other similar services.
Suppose your cleaner provided exceptional service, or you requested that they complete a particularly filthy project. In that case, you may want to tip a little more than the standard 15-20% of the rate you paid.
A 15-20% tip is standard in the industry, so if your house cleaning services cost $100, a $10-$15 tip would be greatly appreciated.
If you have more than one cleaner come to your home, splitting the tip between the two, you are not required to tip each cleaner $10-$15, though you may do so if they provide truly exceptional service.
Tipping closer to 20% may be appropriate if you're aware that the cleaners working for the company you've chosen on tips for a living wage and are not included in the rates you pay.
How to Tip Your Cleaners?
After making the decision to tip your house cleaners, what's next? If you're having trouble getting the word out, here are some ideas:
When it comes to tips, cash is the most common and preferred payment method, particularly for one-time services. Instead of tipping cash, you can express your gratitude in a variety of ways if your maid visits your home frequently.
Every time you have a service, leave a small amount of cash in an envelope at home.
Pay with a credit card and leave a tip (not all cleaning companies allow this, ask first).
After work, give a tip to your housekeepers.
Pay your housekeeper's gratuity by writing them a check.
If you have a good relationship with your housekeeper, provide them with a gift or a gift card instead of a monetary tip.
In the event that you have more than one housekeeper, hand each of them a separate tip.
It is customary to give a gratuity to your housekeeper on special occasions (events or holidays).
Inquiring about a special bonus for tipping with your cleaning service or adjusting your flat rate.
To add a gratuity to your credit card on file, email the company or service.
Personal gifts, such as wine, can be given to house cleaners who are well-known to you.
Your relationship with the house cleaner will play a role in determining how much you tip, as will finding a tip amount that feels right to you. If the amount of work, the type of cleaning service, or anything else in your business changes and you require your tips to reflect that, choose one and make adjustments as necessary.
As a bonus, it will show your cleaner that they are appreciated as a person, rather than simply an employee.
Should You Tip or Should You Not Tip?
You don't have to be obligated to give a gratuity to a cleaning service. Still, they certainly appreciate it if you do.
Keep in mind matters like the size of the company and how often you use their services as well as the difficulty level of the task and the quality of their work when deciding how much and when to give a gratuity.
Tipping house cleaners are not required, but just because it isn't doesn't mean it isn't a nice thing to do. Is it proper to tip house cleaners? Without a doubt! Show your gratitude to the people who are bending over to clean your toilets, floors, and rugs.
If you find a fantastic cleaner, be sure to tip them. Cleaning houses for a living is a difficult task. Everyone likes being appreciated for a job well done.
In the end, the choice is yours to make. But, especially for someone in the service sector, it's always pleasant to be recognized for good work.
You can always add a tip to your bill at Maids in Apron if you are satisfied with the service provided by our professional cleaners. We aren't just any cleaning service. Learn about the Maids in Apron difference!
How To Tip A House Cleaner FAQs
What is an appropriate tip for a house cleaner? It's common to tip house cleaners between 15-20% of the total bill, although this can vary based on the quality of service and the personal relationship you have with the cleaner. If the cleaner does an exceptional job, feel free to tip more.
Should I tip my house cleaner every time they clean? Yes, it's generally good etiquette to tip your house cleaner each time they provide a service. This shows appreciation for their hard work and encourages consistent high-quality service.
How much should I tip a house cleaner during the holidays? During the holiday season, it's customary to give a larger tip or gift, often equivalent to the cost of one full cleaning session. This is seen as a "holiday bonus" and shows your appreciation for their work throughout the year.
Is it acceptable to leave the tip in cash? Yes, leaving the tip in cash is actually preferred by many house cleaners as it allows them to receive the tip immediately. Just be sure to leave it in a clearly visible location or hand it to them directly.
Is it okay not to tip if the cleaning service is unsatisfactory? If the cleaning service did not meet your expectations, it's acceptable not to tip. However, it's also important to communicate your concerns with the cleaner or the cleaning company to give them a chance to rectify the issue.
What should I do if I forgot to tip my house cleaner? If you forget to tip your house cleaner, you can make up for it the next time they come to clean. Simply explain that you forgot the previous time and give them double the usual tip.
Should I tip house cleaners who own their own business? While it's not always expected to tip business owners, it is still a nice gesture to tip house cleaners who own their own business, especially if they provided the service themselves.
Can I tip my house cleaner with a gift instead of cash? While cash is usually the preferred method of tipping, giving a thoughtful gift can also be a nice gesture. However, it's important to consider whether the gift is something the cleaner will appreciate or find useful.
Is it necessary to tip if the cleaning service fee is high? Even if the cleaning service fee is high, tipping is still customary. The tip is a direct way to show your appreciation for the cleaner's effort and hard work.
How should I handle tipping if multiple cleaners come to my house? If multiple cleaners come to your house, it's best to divide the tip evenly among them. You can give the total tip to the team leader or divide it yourself, but ensure each cleaner receives their portion.
Your Opinions
What are your thoughts on this topic, by any chance? Do you give housecleaners a tip? If that's the case, how generously do you tip them? As always, we'd love to hear from you!